Support for the people of Ukraine
The catastrophic war in Ukraine is forcing many men, women, and children into hunger. Hundreds of thousands of Ukrainians are traveling for days without food. MFB is partnering with other nonprofit organizations to donate our nutritious meals, Tender Mercies to the people of Ukraine. Convoy of Hope provided transportation for the first shipment of nearly 240,000 servings of Tender Mercies to the countries helping Ukrainian refugees. The cost to Midwest Food Bank to supply Tender Mercies for this effort is $60,000. Other MFB nonprofit partners have included: Children's Hunger Fund, International Christian Enterprise, Inc., Basic Life Support, Mount Church, and The Elpis Foundation in Romania. An MFB board member from Texas utilized the strength of three other nonprofits combined with MFB to get a shipment of Tender Mercies to Romania. Those meals will be distributed in late May/early June. Story here.
"Convoy of Hope is incredibly blessed by the partnership and generosity of Midwest Food Bank," says Ethan Forhetz, Convoy of Hope National Spokesman. "Their shipment of Tender Mercies meals is headed to Romania where Convoy of Hope will distribute it to Ukrainian refugees fleeing the violence in their homeland."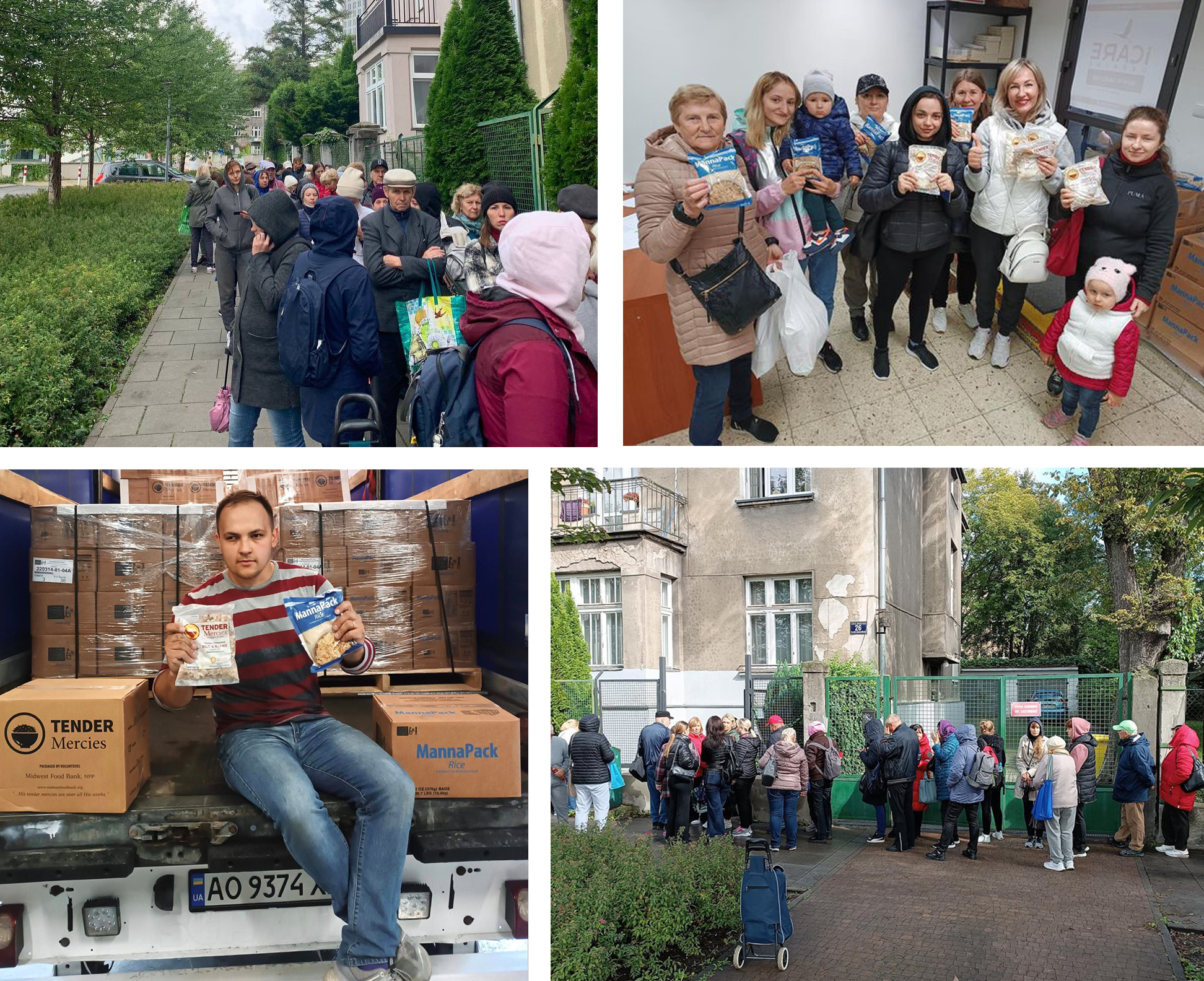 Your donations help provide many children and families of Ukraine with nutritious meals. Midwest Food Bank is thankful to be able to supply Tender Mercies, fortified with protein, essential vitamins, and minerals for Ukrainian refugees who are facing food insecurity. From the team here at Midwest Food Bank and those affected by the Ukrainian crisis, we thank you.
Partner with us to support Ukrainians in need. Donations fund the production and distribution of Tender Mercies.

Donations by check may be mailed to:
Midwest Food Bank
700 Erie Avenue
Morton, IL 61550
Please write "Tender Mercies" in the memo line.
Tender Mercies is a program of Midwest Food Bank. Tender Mercies was designed by dietitians to provide critical nutrition while offering delicious, shelf-stable food. Savory rice and beans are the foundation of the Tender Mercies recipe. They're fortified with protein, essential vitamins, and minerals to ensure maximum nutritional value.
Any donations received in excess of Midwest Food Bank's costs to ship Tender Mercies to Ukraine will go to support the Tender Mercies program.