Midwest Food Bank Locations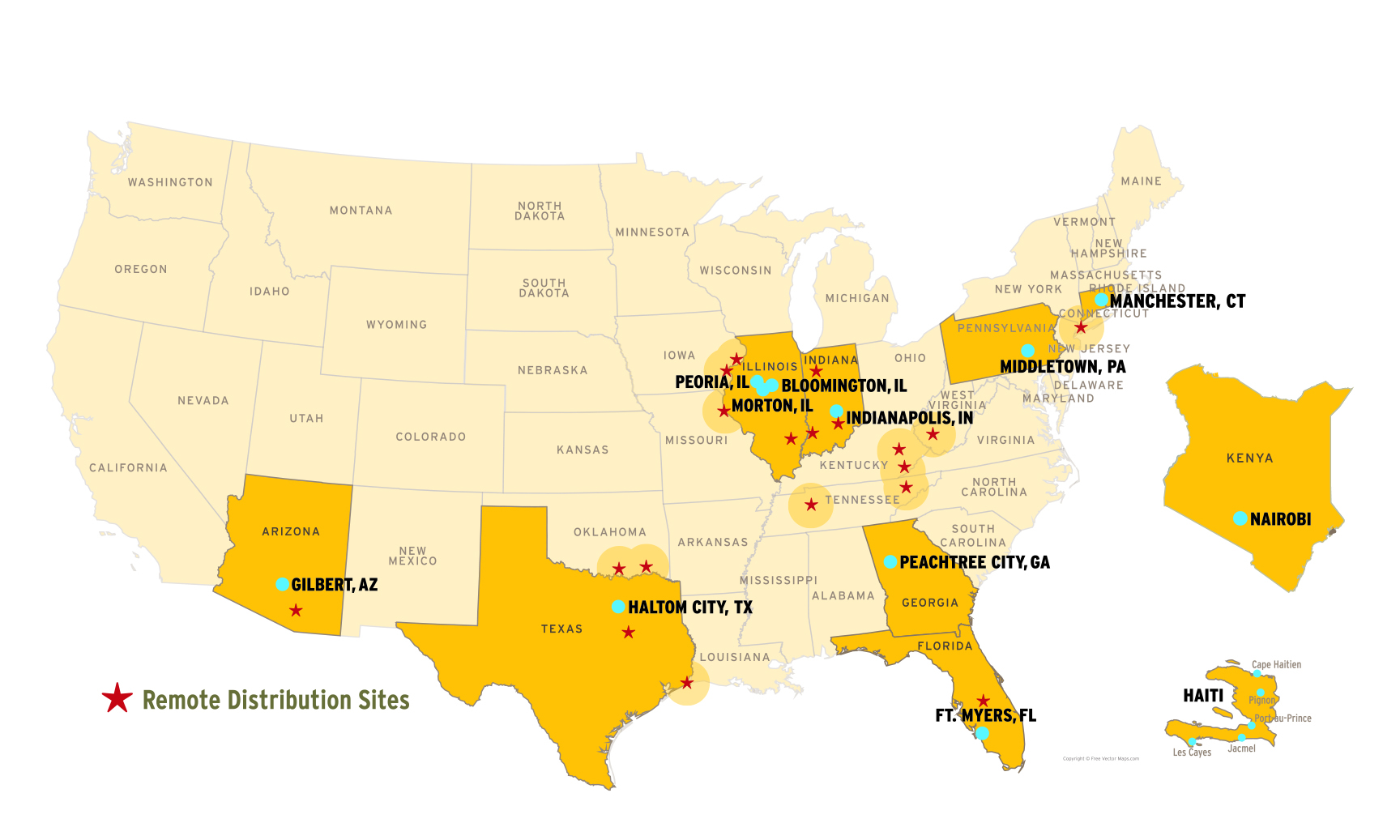 In addition to distributions at our locations, Midwest Food Bank supports many monthly remote food distributions. Most of these operate out of loaned warehouse space, keeping costs at a minimum. Food is delivered to the site, where volunteers unload, set up, and facilitate the distribution. This has proven to be a cost-effective way to expand Midwest Food Bank's impact and reach.
Below is a list of Midwest Food Bank locations, as well as current remote distribution sites.
725 E. Baseline Road
Gilbert, AZ 85233
Phone: 480-892-0134
Remote distribution sites:
Tucson, AZ
5601 Division Drive
Fort Myers, FL 33905
Phone: 239-690-1722
220 Parkade Court
Peachtree City, GA 30269
Phone: 770-486-1103
Remote distribution sites:
Morristown, TN
Nashville, TN
2031 Warehouse Road
Normal, IL 61761
Phone: 309-663-5350
Remote distribution sites:
Clay City, KY
Fairfield, IL
New York City, NY
Belle, WV
700 Erie Avenue
Morton, IL 61550
Phone: 309-291-0900
9005 N Industrial Road
Peoria, IL 61615
Phone: 309-691-5270
Remote distribution sites:
Quincy, IL
Rock Island, IL
Oakville, IA
Harlan, KY
6450 S. Belmont St.
Indianapolis, IN 46217
Phone: 317-786-8980
Remote distribution sites:
Francesville, IN
Greenwood, IN
Milford, IN
South Bend, IN
Vincennes, IN
440 Adams St.
Manchester, CT 06042
Phone: 860 783-1820
2700 Commerce Drive
Middletown, PA 17057
6741 Midway Road, Ste 200
Haltom City, Texas 76117
Phone: 817-571-4600
For U.S. Correspondence:
700 Erie Avenue
Morton, IL 61550
Phone: 309-291-0900
For U.S. Correspondence:
700 Erie Avenue
Morton, IL 61550
Phone: 309-291-0900
2031 Warehouse Road
Normal, IL 61761
Phone: 309-663-5350