Midwest Food Bank is Sharing the Blessings
As a faith-based organization, it is the mission of Midwest Food Bank to share the love of Christ by alleviating hunger and malnutrition locally and throughout the world and providing disaster relief; all without discrimination. Our vision is to provide industry-leading food relief to those in need while feeding them spiritually.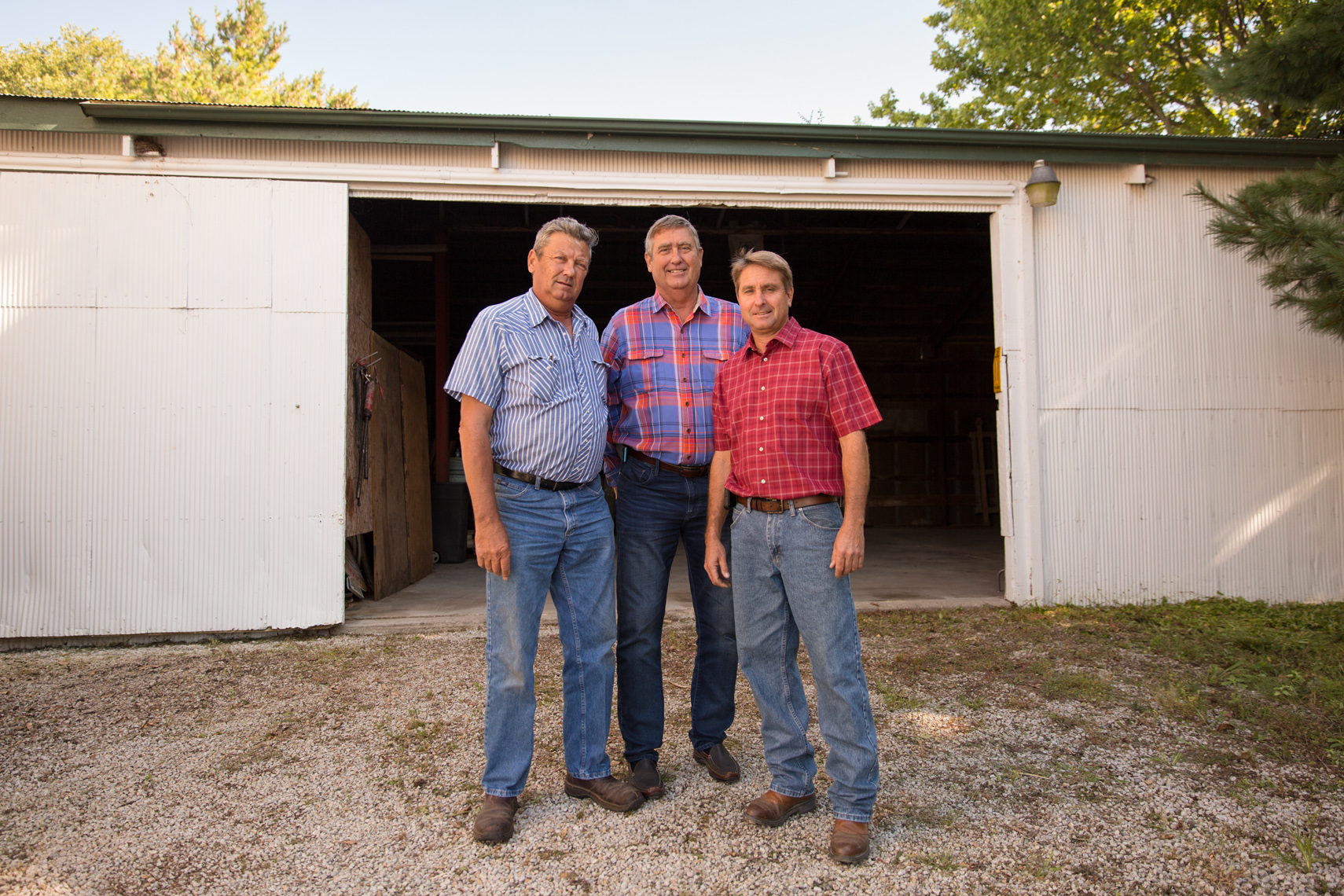 Our story started in 2003 when the Kieser family actioned their faith to share their blessings. They turned a shed on their family farm into a distribution site for local food pantries. Soon they realized the need was more significant, and there was room for growth. In the photo at right, Robert, David, and Paul Kieser stand in front of the original Midwest Food Bank site. Thanks to the generosity of our donors, the valuable work of our volunteers, and most importantly, the blessings of God, Midwest Food Bank now shares the blessings worldwide. Midwest Food Bank currently distributes nearly $34 million worth of food to over 2,200 non-profit organizations each month. This is done from our twelve locations in Illinois, Arizona, Florida, Georgia, Indiana, Texas, Pennsylvania, New England, East Africa, and Haiti.
A Volunteer-based National Food Bank
Midwest Food Bank volunteers are more than our hands and feet; they are fundamental to the success of our organization. We are structured to provide service opportunities and operate through the work of volunteers. They collect, sort, pack, and distribute food and disaster relief donations and remind us every day that our mission could not be achieved without them.
In 2022, more than 30,000 volunteers put in over 350,000 hours of service, the equivalent of over 175 full-time employees. The service of these dedicated volunteers allows Midwest Food Bank to operate efficiently while keeping administrative costs low. They gain the unique perspective that worldwide hunger is prevalent, and their efforts can make a difference.
Disaster Relief & Logistics
In 2005, Midwest Food Bank saw first-hand that we could deliver hope and support to the victims of Hurricane Katrina. With prayer and passion, we began to increase our capacity and work toward improving our disaster support coverage. This allowed us to serve more people more effectively.
We have a fleet of trucks and volunteer drivers standing ready. Food donations are picked up from across the country, delivered to our facilities, and distributed to those in need.
As a front-line provider for Salvation Army, we can have family food boxes on the road to a disaster site within 24 hours of a request. Each food box has enough food to feed a family of 4 for 4 to 5 days. Volunteers pack the boxes, load them on semis, and drive them to affected areas.
A Bright Future
With the guidance of God and the commitment of our partners and volunteers, remarkable results have been achieved and have prepared us for continued service as worldwide demand continues. MFB has established procedures for growth and is prepared to continue and share the blessings in the continuing fight against food insecurity.
Midwest Food Bank is positioned for growth, seeking new partnerships, and expanding programs to alleviate hunger. We welcome you to learn more about our work to bridge the gap between poverty and prosperity. If you have a heart to serve, consider the numerous opportunities for donating and volunteering.
Whoever is kind to the poor lends to the LORD,
and he will reward them for what they have done.
Proverbs 19:17