Celebrate with an online fundraiser
Are you interested in easy ways to fundraise and alleviate food insecurity? Whether you have a birthday coming up or have a group to engage, we offer many ways to support Midwest Food Bank. Below you will find different fundraisers you and your friends can get involved in, along with some frequently asked questions. With just a few clicks, you can raise funds to fight food insecurity. Thank you for your support of the Midwest Food Bank mission.
Select your fundraiser type and MFB location:
Celebrate Your Birthday WITH A FUNDRAISER
Empower your friends and family to bless others by fundraising for your birthday. Support the MFB location of your choice or the area of greatest need:

Host a VIRTUAL Food Drive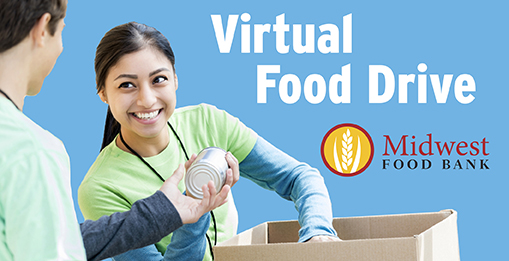 Encourage your community to have an impact in the fight against hunger. MFB turns $1 into $30 worth of food. Support the MFB location of your choice or the area of greatest need with a virtual food drive:

Create Your Own Fundraiser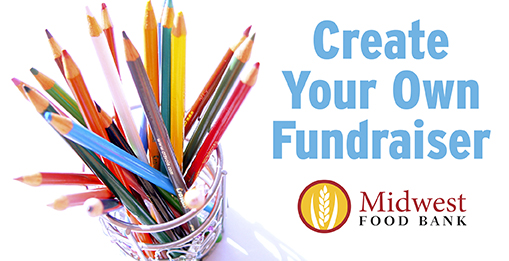 This is the most flexible of our virtual fundraising options. Celebrate your anniversary, raise funds in honor of a loved one, or showcase a milestone moment in your life. Support the MFB location of your choice or the area of greatest need:

Frequently Asked Questions

What does it mean for me to become a fundraiser for Midwest Food Bank? What is expected of me?

We have easy-to-use templates that will allow you to raise funds to support Midwest Food Bank. You can modify a template to make it fit your needs and personality. Once the template is complete, you can share the webpage with your friends and family so that they can join in on the fundraiser. That's it!
Are there specific themes for the fundraiser for Midwest Food Bank?
Midwest Food Bank has customized templates for a variety of campaign themes: Celebrating your Birthday, Virtual Food Drive, a design your own. We will continually add more campaigns.
How much money do I need to raise?
Each individual sets their own goal for their fundraiser. No minimum or maximum amounts are established. Every dollar you raise will have an impact. Most campaigns raise between $500 - $1,000
How long should I have the fundraiser open?
The fundraiser can be open as long as you would want or deem appropriate. 2 – 4 weeks is most common.
What is the best way to raise funds when using the fundraiser templates? What tips do you have for me?
There are multiple ways to raise funds when conducting this online fundraiser. The best advice is to share with your friends and family via email, text, and social media. Many of your loved ones will be glad to support a cause you are passionate about. Share with your network why this mission is important to you and why you are motivated to ask for donations. Most of all, enjoy the process.
Can I contribute to my own fundraiser?
Absolutely! We encourage you to donate to your Midwest Food Bank fundraiser as a way to jumpstart the donations. Making a donation yourself is not a requirement.
Will I be notified if someone donates?
Yes, fundraisers will be notified with each donation, unless the donor asks to remain anonymous.
Can I thank the donor?
Yes, it would be excellent if you thanked them. Midwest Food Bank will also thank the donor and will provide a donation receipt.
Is there a minimum age limit on who can create a fundraiser?
There is no minimum age limit. Parents are encouraged to support children by helping them set up their page and communicate the opportunity to donate to Midwest Food Bank.
What do I do if I receive a check donation for my fundraiser?
Mail checks to Midwest Food Bank, 700 Erie Avenue, Morton, IL 61550. Write "Online fundraiser" in the memo.
Who can I contact if I still have questions?
You can contact Jada Hoerr with Midwest Food Bank at This email address is being protected from spambots. You need JavaScript enabled to view it..
Thank you for supporting Midwest Food Bank and sharing our mission with your friends!