Disaster Relief
A derecho storm went through Iowa on Monday, August 10, causing extensive damage. Nearly 340,000 customers lost power. An estimated one-third of the state's cropland was destroyed or extensively damaged. Linn County where Cedar Rapids is located saw 90-110 mile per hour winds which lasted nearly 45 minutes. The first semi load of Disaster Relief went to Cedar Rapids, Iowa, on Tuesday, August 18. Two more have been sent since that.
On August 27, 2020, Hurricane Laura slammed into St. Charles, Louisiana, with 150 mph winds. Severe damage was done to buildings, vehicles, and trees. At least 880,000 people were left without power. At the request of our partner, The Salvation Army, a load of cleaning supplies and loads of food boxes have been sent to the area. An anticipated 10-20 loads of relief will be sent in September.
A second major hurricane of the 2020 season, Sally, blasted the Alabama coastline on September 16. Widespread damage was caused in the panhandle of Florida. 4 months of rain (over 30") fell in 4 hours. Over a half million people were left without power. Sally moved north and spread its tropical rains, winds, and tornado threat to Georgia and the Carolinas. MFB sent seven loads of Disaster Relief in September, and eight more in October. We anticipate additional loads being requested.
For those wishing to help, monetary donations give Midwest Food Bank the ability to most efficiently and quickly supply help to those in crisis. Those wishing to help cover the cost of supplies or the fuel needed to transport Disaster Relief loads may do so by texting @MFB to 52014 to donate or use the form below. On the form, select "Disaster Relief" for the designation.
The COVID-19 virus has disrupted every life in the areas we serve. Businesses have suspended or curtailed operations and schools have closed. Even as our world begins to open up, those suffering from food insecurity continues to increase. Monetary donations give Midwest Food Bank the flexibility to offer pandemic food relief.
• $500 covers the average trucking cost of transporting a load of donated food to Midwest Food Bank.
• $100 fills four Disaster Rel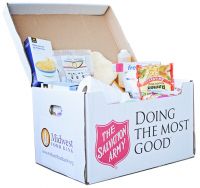 ief family food boxes.
• $ANY amount provides help to someone in need.
MFB has been in contact with our partner, The Salvation Army, and is helping with Disaster Relief. Semi-loads of family food boxes have been sent and more have been requested. MFB has supplies on hand to make more family food boxes but will be limiting the number of volunteers at each packing opportunity per CDC recommendations. Please check this site or the Facebook page of your local MFB for updated information.
Some video and news coverage of MFB efforts: Arizona (AZ2) Florida Georgia Peoria, IL Indiana New England area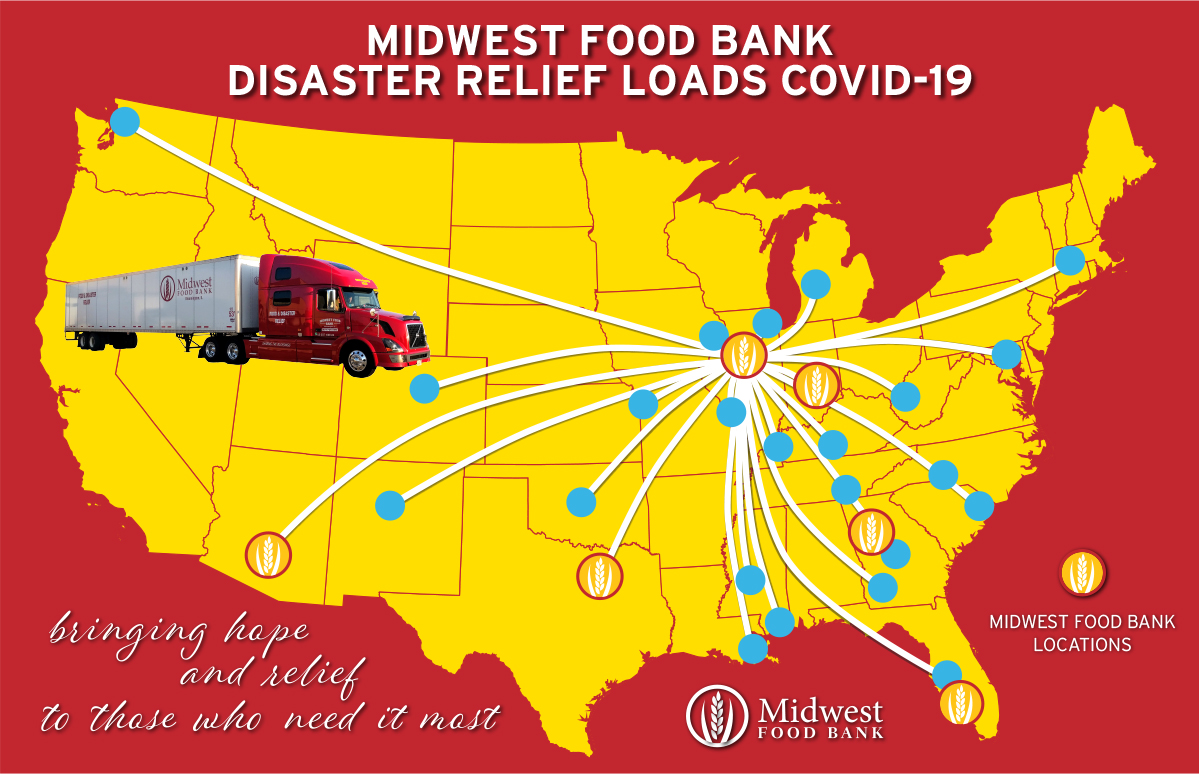 Volunteers assemble, pack, and drive the boxes to disaster sites and the Salvation Army distributes them to those in need. Family food boxes contain enough shelf-stable food to feed a family of four for 4 to 5 days. As a Salvation Army First Responder, Midwest Food Bank can have supplies on the road within 24 hours of being called.
Thirty semi-loads of disaster relief were sent to victims in 2019. This includes hygiene kits, cleaning supplies, and family food boxes. Despite bureaucratic difficulties, MFB worked with other non-profits to get Disaster Relief to the victims of Hurricane Dorian in The Bahamas.
Disaster Relief sent in 2019 included:
• Flooding victims in Omaha, NE, Davenport, IA, Jerseyville, Harding, and East Carondelet, IL, Harlingen, Arlington, and Beaumont, TX.
• Tornado victims in Jefferson City, MO, and Dayton, OH.
• Hurricane Dorian victims in West Palm Beach, FL, and The Bahamas.
Midwest Food Bank is blessed to be able to provide a way for people to help support our neighbors. Here are the ways you can bring help and hope:
1. Pray for those who are displaced and hungry. Their best help will come from the LORD.
2. Donate financially. Midwest Food Bank has many buying partnerships, and with our not-for-profit status, we will maximize your donation, increasing your purchasing power. Funds will be used to purchase food for Disaster Relief boxes and to cover the cost of transporting them. Any funds received that go beyond the needs for specific disasters will assist in future disasters.
To make a donation, text @MFB to 52014, or please use the form above.
Please watch the Facebook page of your local Midwest Food Bank for volunteer opportunities. Thank you for your concern and your heart to help those who are suffering loss.