Disaster Relief
Alabama/Georgia Tornados
A powerful tornado system ripped through parts of Alabama and Georgia on Thursday, January 12, 2023. At the request of The Salvation Army, MFB is sending two semi-loads of bottled water and family food boxes to help the victims. They are leaving early Tuesday morning, January 17. We are standing by as The Salvation Army assesses the needs.
There may be upcoming opportunities to assemble Disaster Relief boxes at several of our locations. Check MFB location pages on this website and Facebook group pages for more detailed information. For those who wish to help, financial donations give MFB the flexibility to respond quickly to disaster victims' needs. To make a financial gift, please use the form below.
2023 Disaster Relief
GEORGIA/ALABAMA, TORNADOS
Midwest Food Bank is sending two semi-loads of relief at the request of The Salvation Army. They leave Tuesday, January 17, 2023.
2022 Disaster Relief
SOUTHWEST FLORIDA, HURRICANE IAN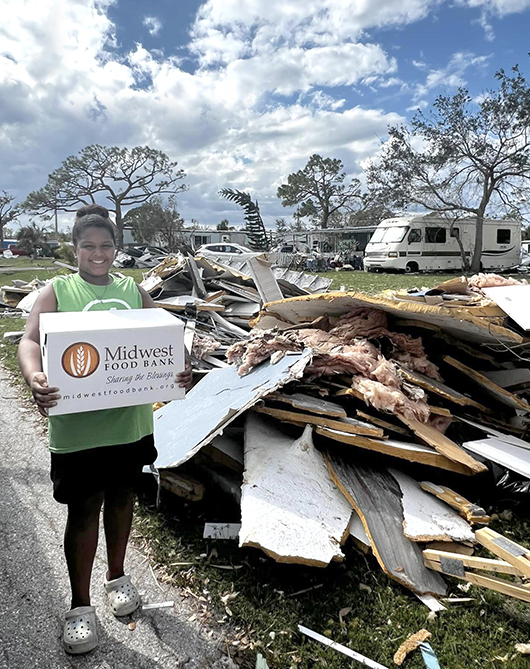 Hurricane Ian, a Category Four storm, made landfall near Fort Myers, FL, on September 28. Our location in Fort Myers did not sustain any damage and became a key resource in the unprecedented need in Southwest Florida. We sent semi-loads of shelf-stable food there from Central Illinois. Working for days without power, volunteers and staff assembled and distributed family food boxes for MFB Florida's nonprofit partners to give to those in need. In addition to the food boxes created and distributed at MFB Florida, over 13,000 boxes (17 semi-loads) were sent to the area from other MFB locations. Hygiene kits and cleaning supplies were also delivered.
PUERTO RICO, HURRICANE FIONA
The Salvation Army, one of Midwest Food Bank's Disaster Relief partners, has requested a semi-load of family food boxes for victims of Hurricane Fiona. The food is loaded and awaiting pickup at MFB Morton, IL.
Jackson, Mississippi Flooding
The Pearl River crested over seven feet above flood stage on Monday, August 29. The flooding resulted in the city of Jacksonville cutting water production, leaving nearly 180,000 residents without water. Three truckloads of bottled water left MFB Georgia on Tuesday, August 30, with two more leaving MFB Normal, IL, on Wednesday. MFB is on standby to provide further help.
Eastern Kentucky Flooding
Flooding from major storms hit Eastern Kentucky Thursday, July 28, with some areas receiving eight to ten inches of rain. Flash flooding and mudslides caused death, and great property and infrastructure damage. MFB sent two semi-loads of water and a box truck of food to the area on Saturday, July 30. Since then, 3 full semi-loads of family food boxes have been sent to the area, the most recent in the week of August 22. Midwest Food Bank is ready to send additional relief if requested in this large-scale disaster.

Louisiana Tornado
A tornado hit New Orleans Tuesday, March 22, causing damage, power outages, and injuries. The first truckload of family food boxes left Midwest Food Bank for the area on Thursday, March 24.
2021 Disaster Relief
Kentucky Tornadoes
A historic tornado outbreak hit Western Kentucky on Friday, December 10, and into Saturday morning. Four likely tornadoes ripped through the area, including one that was tracked for over 200 miles. The death toll is 88 and over 100 people are still missing. Please join us in praying for the victims of this tragedy.
At the request of one of our Disaster Relief partners, The Salvation Army, MFB sent its first load of family food boxes on Wednesday, December 15. It will go to Bowling Green, KY. A pallet of toys MFB had on hand is included in this load to help with Christmas needs for young children. On Thursday, December 16, a load of water will be leaving MFB Georgia, and going to Madisonville, KY.
Hurricane Henri and Ida
Semi loads of drinks, family food boxes, and cleaning supplies have gone to Louisiana, Mississippi, New York, Pennsylvania, and Texas, to help victims of Hurricane Henri and Ida. Two semi-loads of family food boxes will be leaving for Texas this week. Midwest Food Bank has also been actively supporting hurricane victims in Haiti. We continue to provide Disaster Relief and anticipate we will be actively doing so for several more weeks.
Haiti Earthquake
On August 14, a devastating magnitude 7.2 earthquake hit the southern peninsula of Haiti. Two days later, tropical storm Grace dumped up to 15 inches of rain on Haiti. Midwest Food Bank Haiti shipped earthquake relief sea containers to Haiti and worked with experienced partners on the ground to identify and feed at-risk children and adults.
Arizona Fire Victims
Midwest Food Bank sent two semi-loads of relief to the Gila River Indian Community in Arizona to help fire victims. Power had been knocked out due to 70 mph winds, so they were thankful for foods that didn't need to be cooked. Drinks were also sent for relief workers.
Texas Ice Storm
Midwest Food Bank sent more than 55 loads of Disaster Relief in the first half of 2021. Nearly half of those were to help victims of a rare ice storm in the Southern US. The states affected are Mississippi, Oklahoma, and Texas. For a time beginning in February, a load was sent every day. Here's a brief video: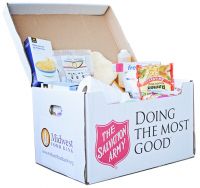 Victims of flooding in Georgia and Texas also received loads of MFB Disaster Relief this year.
For those wishing to help, monetary donations give Midwest Food Bank the ability to most efficiently and quickly supply help to those in crisis. You may give by texting @MFB to 52014 to donate or use the form above. On the form, select "Disaster Relief" for the designation.
• $500 covers the average trucking cost of transporting a load of donated food to Midwest Food Bank.
• $100 fills four Disaster Relief family food boxes.
• $ANY amount provides help to someone in need.
Midwest Food Bank is blessed to be able to provide a way for people to help support our neighbors. Here are the ways you can bring help and hope:
1. Pray for those who are displaced and hungry. Their best help will come from the LORD.
2. Donate financially. Midwest Food Bank has many buying partnerships, and with our not-for-profit status, we will maximize your donation, increasing your purchasing power. Funds will be used to purchase food for Disaster Relief boxes and to cover the cost of transporting them. Any funds received that go beyond the needs for specific disasters will assist in future disasters.
To make a donation, text @MFB to 52014, or please use the form above.
Please watch the Facebook page of your local Midwest Food Bank for volunteer opportunities. Thank you for your concern and your heart to help those who are suffering loss.